Meditation & Mindfulness for Physicians Weekend Retreats
As physicians, we all experience suffering, sometimes even moral injury. We may inherit a practice full of too many patients on narcotics for whom we are now responsible, have an unending "inbox", or have to concern ourselves with being rated on productivity when we want to spend time caring for suffering people who need our attention and time. . Even in the best of practices, patients are suffering, families are under stress, people die. It is meaningful, but not easy, work we do.
Our personal lives include suffering too, whether it is the death of a parent, a divorce, infertility, an empty nest, or feeling like you don't have enough time and energy for your children, your spouse, or your friends.
We have a calling to be present for the people that come to us for help. But we need to fill our own cups up first so we can be present for those who are suffering.
We all learned to multi-task in medical school— looking up a lab result while doing charts and waiting on hold for a consultant. Yet what will help us most to get back in touch with the healer within, is mindfulness (which may be the opposite of multi-tasking.)
Come share a weekend with us:
beautiful private setting in Napa Valley
healthy cooking and eating
time for healing
resources for your patients
CME credit
a community of like minded physicians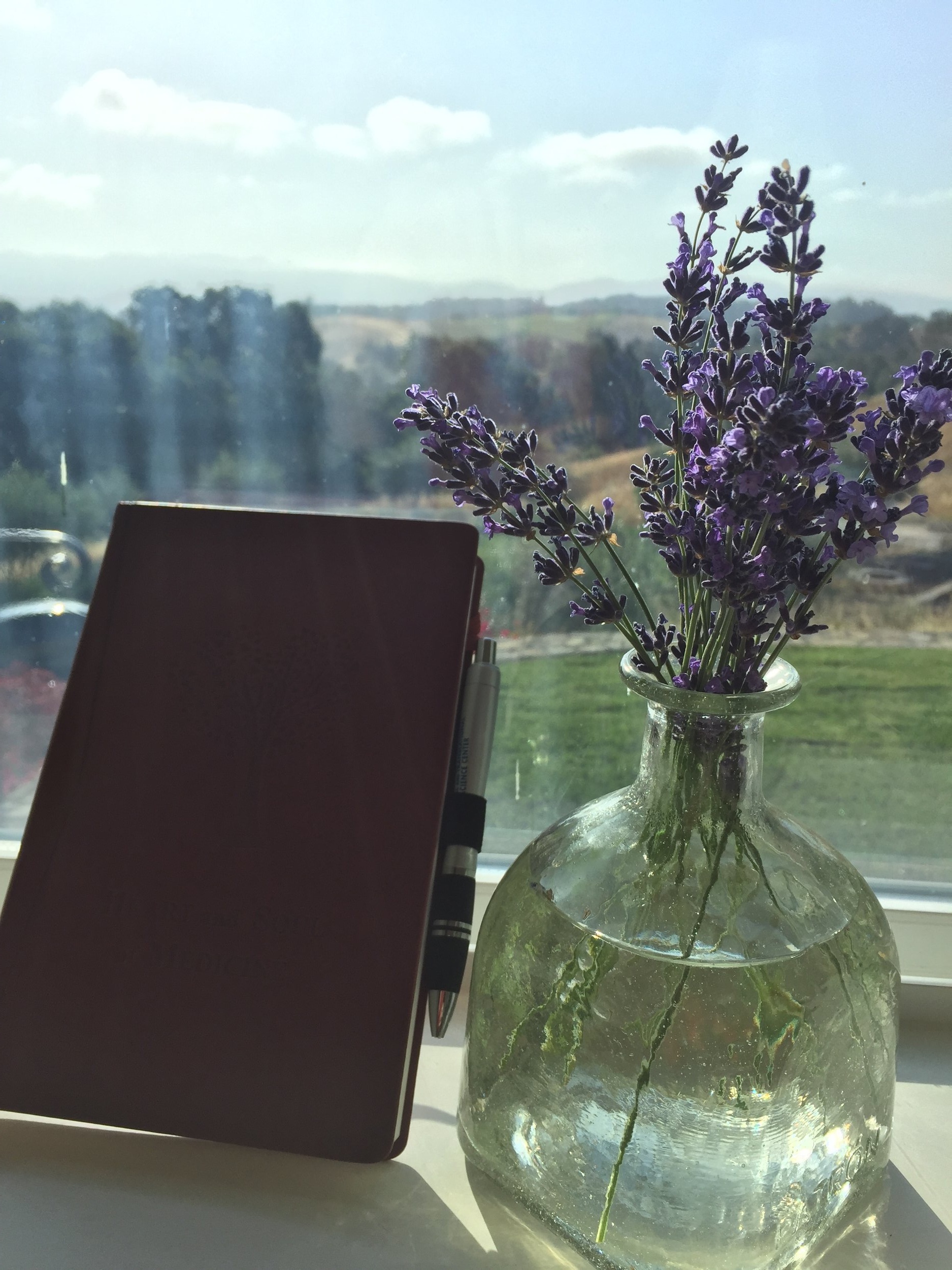 Meditation skills to help heal yourself
….and to share with your patients, partners, staff, students, residents, and family. When we begin to heal our own woundedness, we can be present for our patients.
Whether you are new to mindfulness and meditation, or whether you want a weekend to go deeper and consider how to incorporate them into your practice, consider joining us for this retreat.
WHO
This retreat is for you if:
You prefer a small gathering with a balance of time for quiet reflection and small group interaction.
You are a physician who recognizes (or wants to recognize) your value as a wounded healer.
You deserve some time and attention for your inner life.
You are willing to come with a beginner's mind.
Facilitator: Sharon McCoy George MD MPS
Sharon has been practicing medicine for over 25 years. Because she has a heart for doctors that are overwhelmed and burnt-out, she holds space for you to breathe and reconnect with yourself. She is a gardener who is learning to work in the bigger space of this 5 acres, hillside retreat in Napa. She is creating a medicinal plant garden and making plans for a labyrinth and likes to grow herbs, greens, and tomatoes for healthy meals. She is a family doctor with an interest in integrative medicine. She has a master's degree in Pastoral Studies and teaches the Healer's Art to medical students at UC Davis, where she also mentors and teaches Family & Community Medicine resident physicians. Sharon recently completed the Living School for Action and Contemplation, based in Albuquerque.


UPCOMING RETREAT WEEKENDS
November 8-10, 2019
March 27-29, 2020
SCHEDULE
Friday evening through Sunday mid-day.
Friday arrive anytime between 3:00-7:00p Session will end at 9p
Sat. first session starts at 9:00 am, evening session will end between 8 and 9p
Sun. first session starts at 9:00 am. CME sessions end by noon, with optional activities in the afternoon
This is a small group retreat (10-15 max).
WHAT IS INCLUDED
Mindfulness & Meditation Learn (or refresh) the latest research on benefits of mindfulness and meditation, and practice some ways to teach patients how they can use these practices in their own lives.
Share struggles and experiences as physicians in facilitated exercises with the intention to heal so you return to your practice with your cup a bit more full and with a plan for ways to keep refilling it.
Forest Bathing Spend some time with the old evergreen Coastal Oaks. Walk through the Bay Laurel forest. Sit in the tree swings and listen for the owls.
Healthy Meals, generally Mediterranean diet based (let us know any special requests when you register and we will do our best to accommodate). After recently completing the Healthy Kitchens, Healthy Lives course at the Culinary Institute of America in Napa, I'm inspired to share simple, healthy cooking in community. Those who wish will share preparation of one simple, healthy meal and take recipes home to share with patients. Other meals prepared by Chef Steve and he will spoil us!
Mindful Wine Tasting Seeing, smelling, tasting, savoring different aromas, colors, and flavors found in wine as a mindful practice. Slowly smell herbs, licorice, leather, grass, and others and learn to recognize these sensations in sipping some of the fruit of Napa Valley.
Relax in the hot tub or sit by the fire under the stars. Enjoy the swings hanging up the hill in the Mother Oak.
CME Credit. "This Live activity, Meditation & Mindfulness Retreat for Physicians, with a beginning date of 05/03/2019, has been reviewed and is acceptable for up to 8.00 Prescribed credit(s) by the American Academy of Family Physicians. Physicians should claim only the credit commensurate with the extent of their participation in the activity." AMA/AAFP Equivalency: AAFP Prescribed credit is accepted by the American Medical Association as equivalent to AMA PRA Category 1 credit(s)™ toward the AMA Physician's Recognition Award. When applying for the AMA PRA, Prescribed credit earned must be reported as Prescribed, not as Category 1.
Accommodations. Some registrations include being a guest in a private room on site. If you register for retreat only, Napa has multiple hotels, B&B's, and AirBnB's. We are in the Brown's Valley neighborhood, just over a mile from Brown's Valley Market.
——————
Transportation. We are on the western hills of the city of Napa. Closest major airports are Sacramento (SMF), Oakland (OAK), and San Francisco (SFO). All can be just over an hour drive in good traffic; Sacramento tends to have less traffic. There is a bus between OAK or SFO and Napa, at scheduled (limited) times throughout the day. Search for Evans Napa Airporter. A rental car (or Lyft) offers the most flexibility.
Retreat + Room includes private room with private or semi-private bath and gourmet meals.
Room Options:
Lavender Room: King memory foam bed, private bath. Shared hot tub on deck off bedroom. Great if you want to join in the hot-tub under the stars.
Casita: Separate apartment. Cat-free zone, kitchen, twin day bed with memory foam mattress, elevator access. Most private.
Oak Tree Room: Antique hand carved bed frame, queen memory foam mattress; Shared bath with Citrus room.
Citrus Room: Double Bed lower to the ground. Small desk for those who prefer writing at a desk in the privacy of your room. Shared bath with Oak Tree room.
Library: Ground floor room, private, quiet, dark room for sleeping on a comfortable sofa sleeper surrounded by books. Small desk. Private shower, bath used as powder room during the day.
Retreat Only: Includes meals. Stay off-site at hotel, B&B, or commute from home.
Inclusive Prices (Including Retreat, Gourmet Meals, Mindful Wine Tasting, CME Credit, and on-site guest room):
Lavender Room or Casita: $1845
Oak Tree Room $1695
Citrus Room or Library $1595
Retreat Only (Including Retreat, Gourmet Meals, Mindful Wine Tasting, CME Credit): $1295
Special Early Bird prices for registering more than 6 weeks ahead….save $300!